Marketing Strategies & Developing A Successful Practice
Here is some information on creating an online presence as well as marketing strategies for creating a successful private practice. It is always important to have a business and marketing plan which can always be updated and adapted as you track your progress and find out what works best for you.
Web Presence:
In this day and age having a web presence is pretty important if you want to attract clients. Your potential client or referral source has an opportunity to start knowing you the minute they land on your website. All the more reason to make sure your site shows you in your best light.
Let me give some quick definitions:
Website: Is a collection of related pages of text, graphics, and images, videos that rents space on the Internet. It can be as many pages as you'd like. You can create web sites with places like therapysites.com which charges $59 a month which comes to $708 a year and if you want to move your site you lose your template since therapysites owns it. You can have an independent web designer create the site, which you wil own and can always move and change. You can download free designs from places like nodethirtythree.com which requests you give them credit on your site for use of their free designs or create sites with http://www.wordpress.org or other type programs, be careful that these sites still need to be worked with so they look professional.
You can hire web designers that can charge anywhere from $500 – $10,000 for your website. I have great designers that charge anywhere from $500 – $1000, depending upon the amount of prep work you do. Once the site is complete it usually costs around $100 a year for web hosting.
Web Hosting: (wikipedia) A web hosting service is like a landlord. You rent the space from them to place your website on. Many sites offer extras beyond space, they offer optimization, web design and advertising. The first thing to look for is load time. Have you ever gone to website and it takes forever to load, it sometimes has to do with how the pages are designed and it can have to do with load time. I also look for how often the server is down. Which means your web site would be down on the internet. I have been using Blue Host, they offer unlimited pages, The cost is about $100 per year and I have to say except for the rare incident my site has not been down. They are upgrading their systems often and improving quality

I am a Bluehost customer and have been very happy with the service I receive and would recommend them for a hosting provider.  This link will take you to the Bluehost site where you can sign up for their service but for full disclosure if you sign up here on my site or give my name when you sign up I can earn rewards in either money or services. 
Blog pages: are generally a page that holds an online diary. You can put one your website or start one with any blog site, most search engines offer blogs.
Social Media sites, Directories: these are all places where you can usually join for free and post information about yourself online. I would use these sites to help you improve your ranking with the search engines. Recently Facebook and other sites have become more business friendly. I am also following many people on LinkedIn struggle with how to use Facebook and Twitter.
Search Engines: google, yahoo, msn, bing, etc. these are the major search engines out there. Having a web site is not enough you must have that site found by people searching. The goal is to be on the first page of a search.  You can pay for placement or you can do what is called an organic search.. I spend very little money on advertising my site and my placement is an organic one.
Search engine optimization: This is a collection of tasks designed to create a good placement (ranking) with the search engines. Like I said you can pay, any of the search engines offer means of paid sponsorship (pay per click, sponsored ads, advertising). Or you can create an organic optimization without paid advertising on the search engines.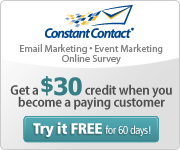 Newsletters – are a great way to get your information out online. An inexpensive means of advertising since you will need to start to generate an email mailing list. I have been using Constant Contact for several years and there are other services out there just like it. For me it makes organizing mailing list's and creating materials very easy.